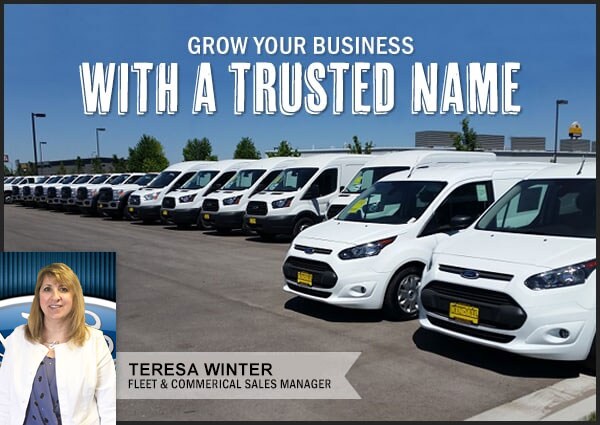 Why Choose Kendall:

Ford Commercial Vehicle Center
Locally Owned and Operated 
President Award Winning Sales and Service Department 
Excellent relationship with upfitters to add value to your commercial vehicles
Quicklane for fast, reliable and cost efficient servicing of your vehicle
Competitive Financing and Commercial Leasing

Find new and used Ford trucks for sale at Kendall Ford of Anchorage serving Palmer, Eagle River, and JBER as your commercial trucks dealership.
Kendall Ford of Anchorage
1950 Gambell, Anchorage, AK
---
Not finding what you are looking for? We can help you find the perfect vehicle to use for your business. Contact us today!
Let's Start Something Great

What's New: New Website, Body Type Search, Vehicle Upfit Specs, Van Upfit Configurator, & More!At Kendall Alaska Commercial Fleet Sales, we've upgraded our online customer shopping experience for Commercial Fleet buyers in Anchorage with a new commercial fleet website that'll blow your socks off. Every imaginable commercial fleet body type is NOW presented in a scrolling bar with a visual representation that makes shopping for your business quicker and easier. With over 26 unique truck types, shopping for the right commercial vehicle has never been easier. You can select multiple body types at once, which allows you to view all vehicles for which you're shopping that are available.
On the vehicle display pages, you'll see body manufacturer specs for upfitting vehicles, such as service flat bed, contractor, and van bodies. This is a great way to help you identify different ways you can upfit your vehicle online. If it's a van that hasn't been outfitted yet, use our NEW Van Upfit Configuration tool to see upfits that are available for that van.
Start by choosing your Vocation:
Auto Glass
Contractor
Delivery
Electrical
General Service
HVAC
Plumbing
Refrigeration
Security and Locksmith
Telecommunications
Describe Your Van:
Model
Wheelbase
Roof Height
View the options available to you.