New Ford Trucks that Offer Tremendous Torque and Off-Road Capability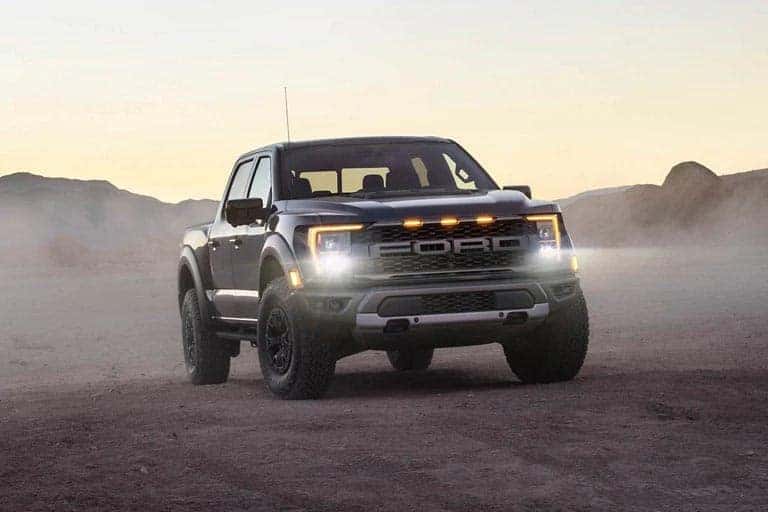 The new Ford-150 Raptor, now at Kendall Ford of Anchorage, offers one of the most comfortable, smoothest rides, super-fast acceleration, and game-changing torque, even on extremely rough terrain. It is also ideal for work or play as you cross the Alaskan wilderness. Look for the new Raptor in our new Ford truck inventory. This is one truck that you must experience you believe!
The new Ford Raptor full-size truck offers several exclusive features that make it one of the most comfortable rides, no matter where your hard workday or your sense of adventure may take you:
The 5-link rear suspension with extra-long trailing arms makes sure the Raptor maintains axel position even on the roughest terrain in addition to a panhard rod and 24-inch coil springs, which are the largest in its class. This, combined with a sophisticated engine management system, gives the new Raptor more torque to the rear wheels for better throttle responsiveness and faster acceleration while also providing comfort, handling control, stability, and traction.
The next generation of Fox Live Valve internal bypass shocks that are filled with an all-new, low-friction shock fluid, in addition to having cutting edge electronic control technology. This allows the Raptor to react fast to terrain changes while providing improved on road and off-road comfort.
A twin-turbo 3.5-liter EcoBoost high-output engine with new high-powered fans built into the cooling system that delivers 450 horsepower and an incredible 510lb-ft of torque.
All of this with an included SuperCrew cab, a huge 12.0-inch touchscreen that keeps you informed, entertained, and connected, and high-tech driver-assist technology to keep you safe no matter where you go, the new Ford-150 Raptor truck is hard to match.
Purchase Your Ford Truck at the Ford Dealership or Online
Drop by our Ford Anchorage dealership check out our new Fords for sale including the new Ford F-150 Raptor. Our address is 1950 Gambell Ave. Anchorage, AK 99501, just a short distance from Jber, Eagle River, and Palmer. When you decide which new Raptor is to your liking, take it for a test drive and try it out for yourself; you are bound to be impressed! Then, while you're here, allow us to determine the value of your trade-in and allow our finance experts in our finance center find the truck loan that is perfect for you. If you'd rather get pre-approved for your truck loan before you even come into our Anchorage Dealership, you can complete our online auto loan application.
We understand that you are busy, and it may be difficult for you to come into our Anchorage dealership, so we offer a way to purchase your new Raptor without even stepping foot in the dealership. It's through our online buying and come delivery program. You can schedule a test drive of your favorite Ford F-150, and we'll bring the test drive to you! You can also order your Raptor directly from the factory to make sure it comes equipped exactly the way you want it. Then, we'll help you purchase your vehicle from the comfort of your home, and when all is in order, we'll deliver your truck to you, up to 100 miles of the Anchorage dealership, with any paperwork you need to sign, and pick up your trade. It's about as easy as you can get!
If you have any questions about the Ford F-150 Raptor and how to get your hands on one of these high-performing beauties, contact us online or call our experienced sales team at (866) 491-0768. We look forward to putting you behind the wheel of your very own Ford truck. Get started today!